DIGITAL POETRY: TEXT-BASED WORKS FROM THE TURBULENCE.ORG * AND NETESCOPIO ** ARCHIVES
Digital poetry has an aesthetic affiliation with the historical avant-gardes and with the avant-gardes of the second half of the 20th century such as Lettrism, Concrete poetry or Conceptual poetry. The Lettrism, founded by Isodore Isou in Paris, understood that poetry should depart from the constitutive elements of language such as letters and sounds, going beyond meaning or semantics and used in a new way underlining its materiality instead of its representative capacity. In the context of Lettrism, also appeared the notion of détournemet (which latter will be a key concept for the Situationist poetics), in which social messages were appropriate, altered, intervened, subverted or "hacked". Concretism, emerged in São Paulo (Brazil). The concrete poets recognized themselves as heirs of Stéphane Mallarmé, James E.E. Cummings, Apollinaire or Oswald de Andrade. Their pieces were conceived as ideograms and their words were articulated as constellations on the space of the page. From Concretism arised several tendencies such as the semiotic poem, the visual poem, the poem process, in a zeitgeist conditioned by the theories of the communication, the theories of the information, the linguistic turn and semiotics. In the 60s, Conceptualism used language as a strategic tool to highlight the mechanisms used by hegemonic powers that are hidden in our everyday linguistic exchanges. Conceptual poetics had important antecedents at the beginning of the 20th century with Marcel Duchamp or Gertrude Stein, for example. As the century progressed it was cultivated by creators such as John Cage, Lawrence Weiner or the Art & Language group. It helped to address the limits of the representation of the world by words often with self-reflective, tautological or metatextual strategies. The Conceptual poetry that appeared in the 50s and 60s often expanded the textual to the visual, the cartographic, and to sound, performance and media (radios, telephones, recorders) as well.
Regarding the digital era, it is generally understood as the first digitally generated poetic composition the Stochastic Poem, by Theo Lutz. The Stochastic Texts of Lutz were published in 1959, in Augenblick, the famous literature magazine edited by Max Bense. Since then and until today we will find an increasing profusion of digital poetry, existing an enormous variety of aesthetic proposals processual, generative, performative, textualities in progress, détournements of institutional formats, random procedures, collages and textual cut ups, found poetry. Many of these strategies, as we will see, can be traced in the Turbulence and NETescopio archives.
*Since March 2018, the works of the Turbulence.org archive are hosted on the MEIAC server (Museo Extremadura and Iberoamerican Contemporary Art, Badajoz, Spain)
**NETescopio is an online archive in continuous development since 2008. Its purpose is to preserve artistic generated works for the network. This project of the MEIAC, framed within the concept of Intangible Museum, aims to safeguard, disseminate and catalogue these works, enabling their growth and constant updating.
THE TURBULENCE.ORG ARCHIVE
Zannah Marsh - Invisible Liens - Alan Bigelow - Belen Gache - Martine Neddam - Jim Andrews - Helen Thorington - Jason Nelson - Miranda July - Young-Hae Chang Heavy Industries - Olga Goriunova
Turbulence.org was a legendary net.art archive founded in 1996 in New York by the artists Helen Thorington and Jo-Anne Green. It was meant to commission pieces of art that used the Internet as a medium and could not have an existence outside of it and encouraged artists to explore networks as a means of creating innovative pieces. The works commissioned by Turbulence, which today remain in its archive, reflect the enormous changes that the new online media had in cultural productions, in key years for the appearance of new technologies and network processes. For twenty years, Turbulence.org was one of the few artists' initiatives commissioning new pieces from emerging or established artists. The archive has more than 200 pieces and today it is housed in the MEIAC (Extremaduran and Ibero-American Museum of Contemporary Art). Many of the pieces are text-based. Here we will mention the presence of digital poetry in Turbulence.
Zannah Marsh, text_ocean (2015)
Zannah Marsh (Brooklyn, NY, USA) presents text_ocean (2015), a random text and visualization experiment that uses the novel Moby Dick, by Herman Melville, as source material. The selections of the text are converted into a dynamic sea of words, animated according to their grammatical function. The user "reads" the text "hooking" the words with mouse clicks and then releases them in different spaces. In this way, it disconnects them from its original lines and rewrites Moby Dick in a slow and random way word by word, as the process of reading it proceeds.
http://meiac.es/turbulence/turbulence/commissions/text_ocean/text_ocean.html
Les Liens Invisibles, Tweet 4 Action (2011)
Les Liens Invisibles is an Italian art group formed by artists Clemente Pestelli and Gionatan Quintini that seeks to infiltrate and subvert global communication networks. Tweet 4 Action (2011) is a tool for "armchair activism". The user can organize radical street demonstrations and participate in them without any annoying risks. Created in the cultural context of the "Twitter Revolutions", this project addresses the combination of Twitter, augmented reality and big data, proposing the users to decide, with a few clicks, where they want to "place their disturbance", choose a rebel (#) hashtag and disseminate it all over the web.
http://meiac.es/turbulence/archive/Works/tweet4action/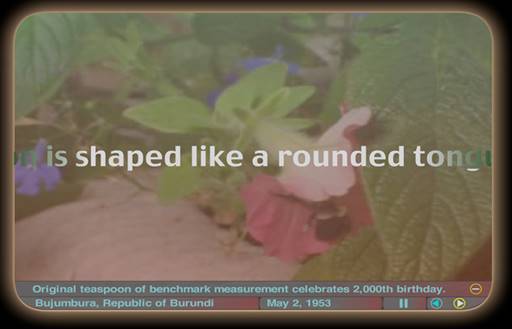 Alan Bigelow, Turbulence Artist's Studio (2007)
Alan Bigelow (Buffalo, NY, USA) creates stories and poems for the web using images, text, audio and video. His works become statements about contemporary life, culture and politics. His Turbulence Artist's Studio page (2007) includes eight works. Some of them are presented as comic strips; others, provide complex comments on politics, family and religion and others, are structured around the entries of a database generated by users, for example, Love Is ..., which proposes a tentative definition of love.
http://turbulence.org/studios/bigelow/bigelow.html
Belen Gache, Word Market (2012)
Belen Gache (Madrid, Spain) presents her Word Market (2012), an Internet portal dedicated to buying and selling words, using a unique coin: the 'Wollar'. Gache´s work is a détournement of the institution "stock market" that, in addition, puts in evidence the vain neoliberal will to become owners of everything, including the meanings of words. In times of increasing privatization of public spaces and the profusion of copyright laws, WordMarket allows the user to own, trade and capitalize on words as their value fluctuates. The idea here is to be able to become the owner of the words that one uses and specially, to prevent others from using them. Gache has used the strategy of détournement in other of her pieces such as Radikal Karaoke or The Sutra of the Celestial Turtle.
http://meiac.es/turbulence/archive/Works/word-market/
XianQiao (Martine Neddam), The essence of a nation: chinese virtual persons on the net (2006)
The essence of a nation: chinese virtual persons on the net (2006) is a project that deals with virtual characters developed by XianQian. Actually, XianQiao is herself a virtual character created by Martine Neddam (Amsterdam, The Netherlands). Neddam works with virtual Internet characters that lead an autonomous artistic existence (Mouchette, David Still, XiaoQian or the shared interface virtualperson.net.) And through them she explores the concept of online identity. With her alter ego XiaoQian, she introduces herself as an artist who, in turn, creates 6 virtual Chinese people: Mu Yuming, a painter; Shaxpir, a hip-hop singer; Wang Shy, a ghost in a traditional garden; He Zhengjun, a carpenter working with wood and text; Yi Zhe, a wedding guest and XiaoQian. In times of the decline of classical narrative, Neddam also explores postmodern experimental narrative forms here, just as, for example, in the otaku Asian culture, the characters will be more important than the author, the narrative or the message of the play.
http://meiac.es/turbulence/archive/Works/XiaoQian/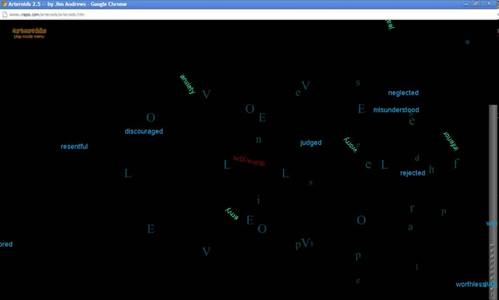 Jim Andrews, Arteroids (2002)
Jim Andrews (Vancouver, Canada) presents his work Arteroids (2002), a computer game of 216 levels that refers to the well-known model of arcade games like Asteroids or Space Invaders, at the same time that it constitutes a rereading of the possibilities of digital poetry. In the "game" mode, poetry fights against the forces of dullness and its fate depends on the user's interaction. He can execute texts through his weapon or exploit the rest of the vociferous texts that appear in green or blue.
http://turbulence.org/project/arteroids-2-02/
Helen Thorington, Solitaire (1998)
Helen Thorington (Boston, MA, USA), who was co-director of New Radio and Performing Arts, Inc. and founder and producer of Turbulence.org, presents her work Solitare (1998), an experiment that explores the relationship between game and narrative. Reminding many experiences of the Oulipo, the novel El Castillo de los crusades, by Italo Calvino, or the book in the form of a deck of cards by Max Aub, each card in Thorington's online deck contains an illustration and a short text. The user selects the texts that he likes and clicks on "Add this line". The selected text moves automatically to the right side of the screen, where it can be seen along with other selected texts forming a random narrative.
http://meiac.es/turbulence/archive/Works/solitaire/index.html
Jason Nelson, Nothing You Have Done Deserves Such Praise (2013)
Jason Nelson (Brisbane, Australia) presents Nothing You Have Done Deserves Such Praise (2013), a digital poetry that mimics a videogame platform where the user must walk, jump, fall in a Mario Bros style. Through lines of text, shapes of reading and combinations of random phrases, Nelson highlights the importance of being praised or rewarded in our lives, often in a superfluous or unnecessary way. Nothing You Have Done Deserves Such Praise is part of a series of poetic games developed by Nelson in which we can find other titles such as Game, Game, Game And Again Game, possibly one of his best known pieces.
http://meiac.es/turbulence/archive/Works/nothing/
Young-Hae Chang Heavy Industries, Samsung means to Come (2003)
Young-Hae Chang Heavy Industries (Seoul, Korea) is a Seoul-based web art group formed by the artists Young-hae Chang and Marc Voge. His work is characterized by presenting animations based on texts synchronized with musical scores. The piece Samsung means to Come, curated for Turbulence by Ryan Griffis (subRational eRuptions, 2003) takes as a motive the relations between the Intelligent Internet and everyday life in the neoliberal South Korea. Reminding the sensuality of household product advertising and continuing from previous work with products from the Samsung brand (intelligent refrigerators), this piece presents a storyteller who imagines herself having sex with a fictional character that symbolizes the company, which knows how to satisfy her demands. The works of Young-Hae Chang Heavy Industries have been presented in different countries and have been translated into more than 20 languages.
http://turbulence.org/project/subrational-eruptions-2/
Olga Goriunova, Suicide Letter Wizard for Microsoft Word (2003)
Olga Goriunova (Warwick, United Kingdom) also appears here curated by Griffis (subRational eRuptions, 2003) and presents her piece Suicide Letter Wizard for Microsoft Word, originally conceived for the Transmediale in Berlin. Why should text editors provide only help for office work and not existential challenges? It is a piece of software art that gives the user the opportunity to create a personalized suicide letter customized for their needs and tastes. Instead of wasting time thinking about how to express oneself about the miseries of the world in the last moments of her life, the user must follow eight simple steps to perfect his suicide note. With a turn at the same time dismal and ironic, the piece refers to the absurd processes of standardization of our daily life promoted by tools such as Word.
http://turbulence.org/project/subrational-eruptions-2/
In the Turbulence.org archive there are also many other text-based works: Shakespeare random sonnets (iLib Shakespeare (a perturbed sonnet project), by Scot Gresham-Lancaster and Tim Perkis, 2014), games that depart from the concept of "Translation" (Ethan Ham and Benjamin Rosenbaum with Les Belles Infideles, 2011), exquisite corpses and collective narratives (Francis Hwang, 2006), works formed by remixes and recycling of texts (Re_Cycled_Views, by Eduardo Navas, 2004), and so on.
DIGITAL POETRY IN THE NETESCOPIO ARCHIVE
Jon Thomson / Alison Craighead - Alexei Shulgin - Übermorgen / Paolo Cirio / Alessandro Ludovico - The Electronic Disturbance Theater - Young-Hae Chang Heavy Industries - Luther Blissett - Eugenio Tisselli - Belen Gache - Olia Lialina - Eduardo Navas - Scott Kildall / Nathaniel Stern
Jon Thomson and Alison Craighead, Attributed Text (1997)
Jon Thomson (London, UK) and Alison Craighead (Scotland, UK), present in Attributed Text (1997) a page in which we only see a typical copyright warning text. If we look more closely, we will realize that each of the words that make up the phrase has a link to sites that do not belong to these artists. When clicking on any of them we will see two frames appear with additional information: one, with the copyright data of the page from where that word has been "stolen" and the other, with the text in question. The choice of these other sites is not accidental and they all revolve around different visions about topics such as copyright, the circulation of information on the Internet, etc.
This ironic strategy shows us the absurdity of taking the practices of copyright control to the extreme, especially in an environment such as the Internet, where it is almost impossible for the navigator to detect the borders between the supposed owners of said information since almost always on the same page we can find materials from different authors.
http://netescopio.meiac.es/proyecto/0218/www.attributed-text.net/index.htm
Alexei Shulgin, ABC (1997)
Alexei Shulgin (Moscow, Russia) presents his work ABC (1997) a minimalist mix between an encyclopedia of random content and a portal designed with careful secrecy. In this work, one of his first pieces for the Internet, Shulgin draws attention to one of the topics of art for the web, the domain name or URL. Once he manages to take control of the pages that seem to have their own will, the user accesses a series of links that, at first glance, we could confuse with a visual poetry exercise: aaa, vvv, zzz. It is about triads that conduce us to their respective www.aaa.com, www.vvv.com or www.zzz.com and so on. From the website of the American Automobile Association, we will go to the Better Business Bureau, Central Christian Church, Dynamic Digital Depth and much later we will reach famous triads like WWW or XXX. In this way, the experience that Shulgin proposes will be like that of a walker whose itinerary is determined by external rules as arbitrary as following the alphabetical order of a street guide and at the same time, it is a metaphor of Internet browsing.
http://netescopio.meiac.es/proyecto/0038/
Übermorgen (Lizvlx, Hans Bernhard), Paolo Cirio and Alessandro Ludovico, Amazon Noir (2006)
Übermorgen (the artistic duo formed by Lizvlx and Hans Bernhard and based in Vienna) together with Paolo Cirio (theorist and editor) and Alessandro Ludovico (writer and cultural critic) create the now classic work Amazon Noir (2006) whose goal was the well-known book store on-line. These artists subtractes books with protected copyright by Amazon.com, using a sophisticated technology coded by Paolo Cirio. They managed to access all the pages of the online sales books, which allowed them to download entire publications and offer them free on their website as objects in the public domain and based on a shared ownership economy. The consequence has been a legal contest with Amazon.com that was followed by large online discussions about the limits of intellectual property rights.
http://netescopio.meiac.es/proyecto/0222/
The Electronic Disturbance Theatre, DDK (Disturbance Developer Kit) (1998)
The Electronic Disturbance Theatre (Mexico-USA) is formed by a group of cyber-activists and artists focused on the development of the theory and practice of electronic civil disobedience. Here, they present their work DDK (Disturbance Developer Kit, 1998). On April 10, 1998, on a new anniversary of Emiliano Zapata's death, they began a campaign to stop the Mexican government's war against Zapatismo in a new theatre of operations: the Word Wide Web. Through the distribution of an "attack toolkit" against the official websites, and following a tactical operations calendar published on the Thing website, this was one of the first synchronous multitudinous operations that was developed on the internet. The DDK consisted of a Java application that sent a refresh order, several times per minute, to the Zedillo website, thus preventing queries. The reports indicated that in this first action of FloodNet more than 8 thousand people distributed in several countries of the world participated. Beyond the discussions that emerged later about this type of strategy, we must highlight the context in which this action was carried out and the precedent that left us the use of the Internet as an element of joint action. This, of course grew exponentially with the arrival of social networks, which was as we know decisive, for example, in the so-called Arab Spring. The action of the EDT was the first virtual sitting and the first public attention call.
http://netescopio.meiac.es/proyecto/0353/www.thing.net/~rdom/ecd/floodnet.html
Young-Hae Chang Heavy Industries, Artist's Stament No. 45.730.944 (2002)
Young-Hae Chang Heavy Industries (South Korea) offers us a deep reflection on art, Internet and culture within the dictatorship of North Korea. The work Artist's Stament No. 45.730.944 (2002), consists in a succession of words that "strike" the viewer in the style of other previous works, such as Cunnilingus in North Korea or Rain on the sea. In the case of Artist's Stament, speed increases our sense of paranoia about a conspiracy. It promotes a situation close to hypnosis through which we end up agreeing with the flow of statements that the work triggers in us. Assertions about art, morals, censorship, leisure, social commitment, the market, accompanied with a narcotic jazz melody prevents us from opposing any resistance.
http://netescopio.meiac.es/proyecto/0005/DECLARACION_DE_ARTISTA.html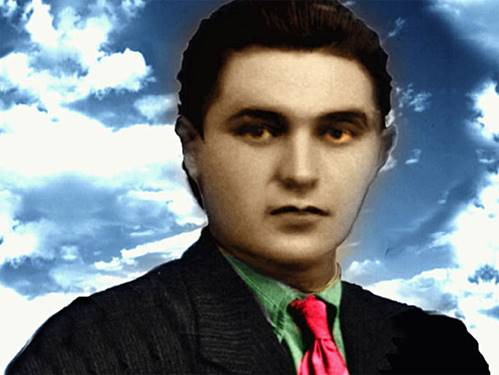 Luther Blissett (1994-1999)
Luther Blissett is a multipurpose name, an open reputation informally adopted and shared by hundreds of artists and social activists throughout Europe since the summer of 1994. In Italy, between 1994 and 1999, the Luther Blissett Project became an extremely popular phenomenon, with a reputation as a popular hero. Blissett also had activity in other countries, especially in Spain and Germany. This "Robin Hood" of the information age waged a guerrilla war in the cultural industry, carried out unorthodox solidarity campaigns for the victims of censorship and repression and, above all, played complex media jokes as a form of art, always vindicating responsibility and explaining what bugs they had used to plant false stories. Some of the "deceptions" made by Blissett were the creation of fake artists, for example, Harry Kipper, a British conceptual artist who disappears on the Italo-Yugoeslavian border while doing a bicycle tour in Europe in search of the ART word on the continent map; Loota, a chimpanzee whose paintings would be exhibited at the Venice Art Biennial; or Darko Maver, a controversial Serbian sculptor and performer. Blissett has carried out actions injecting false news in the media. He has also published the novel Q, set in the sixteenth century, during the peasant riots and popular revolts that almost prevented the Reformation, before suffering a bloody repression with the enthusiastic approval of Luther.
http://netescopio.meiac.es/proyecto/0231/
Eugenio Tisselli, MIDIPoet (1999)
MIDIPoet (1999) is a project by the Mexican artist Eugenio Tisselli that consists of two programs: Composer and Interpreter, with which you can, respectively, compose and interpret pieces of text and / or manipulee images. These pieces may or may not respond to external impulses, such as MIDI messages or the computer keyboard, and generate visual manifestations that involve the manipulation of the different text attributes (content, font, position, size, etc.), the image (content, position, etc.) and other elements and visual effects. With a simple interface MIDIPoet is designed to put words into action, rescuing the temporality and the performatic aspect of poetry.
http://netescopio.meiac.es/proyecto/0008/midipoet/index.htm
Olia Lialina, My boyfriend came back from the war (1996)
My boyfriend came back from the war (1996), by Olia Lialina (Moscow, Russia), is considered today one of the first narrative works developed for the Internet and is perhaps one of the most cited within the European context. Implemented with simple forms of HTML, frames, images and "default" sources, it constitutes a communication strategy that would characterize the later works of this artist. This interactive story could be defined as "a story about love and loneliness." The links lead to pictures of images or texts that are interactively giving rise to a non-linear narrative about a couple that meets after an unspecified war conflict. The story unfolds until the screen becomes a mosaic of small black squares.
http://netescopio.meiac.es/proyecto/0033/war2.htm
Belen Gache, Wordtoys (1996-2006)
The Wordtoys (1996-2006), created by Belen Gache (Madrid, Spain) propose us the exercise of reading as a deciphering task as well as a narrative toy. This piece brings together a series of works of hypertext, and audiovisual pieces with roots in the historical avant-gardes, emphasizing the materiality of the signs and constructed from strategies of randomness, permutability, process, game and rewriting.
This kind of digital anthology is a toy book that allows us to access pieces like the Rimbaudean Word Processor, Write your own Quixote (in which no matter how much we try, we would notbe able to write more than the original Cervantes´ text) or The language of the birds (which presents a series of automaton birds reciting with synthetic voices poems by famous authors about birds.) These birds, converted into machine-poets, remind us that words are never ours; they are always the words of others.
http://netescopio.meiac.es/proyecto/0006/
Eduardo Navas, The Quixote (2000)
The web project The Quixote (2000), by Eduardo Navas (USA) is based mainly on the story by Jorge Luis Borges, Pierre Menard: author of Don Quixote. Taking advantage of this essay of fiction, in which Borges proposes not only the validity of the rewriting but the impossibility of the existence of a true original, Navas establishes a comparison between the possibilities of the hypertext and the narrative mechanisms of Borges, involving the reader-user in the task of reinterpreting the texts. Navas also seems to put the reader-user in the task of reconsidering the traditional format of the book, whose pages are fragmented and unstable. This is achieved both by the use of the formal and visual characteristics of HTML, as well as the superposition of layers, texts on images, the appearance of pop ups where English and Spanish versions are mixed, as well as the incorporation of external links which require an active and re-constructive reading.
http://netescopio.meiac.es/proyecto/0007/systemStory2.html
Scott Kildall and Nathaniel Stern, Wikipedia Art (2009)
On February 14, 2009, Scott Kildall (USA) and Nathaniel Stern (USA / South Africa) placed a new entry in the English version of the Wikipedia with the name of Wikipedia Art (2009). This entry, which everyone could edit, became an art space in itself, a point of collective intervention, a space for theoretical reflection on the notions of work, of artist, but also that of validation and legitimation, two concepts about which is built not only the Wikipedia, but the own system of encyclopaedic knowledge and art.
Due, mainly, to the paradoxical or logical loop that supposes to define a concept that is being created in the precise moment in which it is enunciated, it is discussed and modified and, at the same time, to the need to have to demonstrate the statements with external references of "reliable sources" the validity of this concept, the intervention reached a point of contradiction that led the administrators of the Wikipedia to permanently close the entry.
The discussion anyway only begun at the same moment it was cancelled and along with the documentation of that action, moved from the territory of the Wikipedia to numerous forums or discussion spaces, media and even museums and festivals. The main discussion is to determine, as in any other collective cultural system, who chooses those who choose, who and why she validates those who validate.
http://netescopio.meiac.es/proyecto/0317/wikipediaart.org/index.htm